OFFE After Action Report
Gathering of Eagles (GOE)
FOR IMMEDIATE RELEASE
March 19, 2007

If you attended the Gathering of Eagles rally in Washington, DC this past weekend, you might have gotten one of these envelopes.
<![if !vml]>
<![endif]>
Inside each packet was Operation Firing For Effect's (OFFE) Resolution calling for full mandatory funding of veteran's health care and services.
To date, our Resolution has been adopted and passed by several U.S. northeast cities and townships, including the City of Chicago, Illinois and over 500,000 labor union members in New York State. Visit this link to view signed Resolutions –
http://offe2008.org/public_html/resolution.htm
OFFE National Chairman, Gene Simes and
GOE organizer, Col. Harry Riley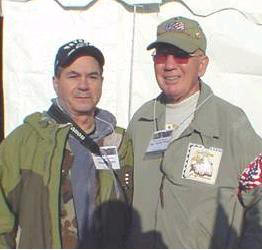 In addition to supporting GOE's mission, our objective was to handout 2,000 of these Express envelopes. Many of the envelopes contained the OFFE Veteran's Medical Alert CD.
Although OFFE's message of future veteran's healthcare was not a primary message of the GOE rally, OFFE was warmly included in the rally program and everyone there was very supportive of our efforts. Now, let's see how many signed Resolutions we receive back.
<![if !vml]>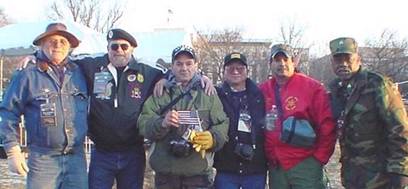 <![endif]>
OFFE DC Team, Left to right; Rick Townsend, [Name Omitted], Gene Simes, Phu Nguyen, Calvin Murphy, John Evans
All in all, the GOE rally was a tremendous success and Operation Firing for Effect congratulates the organizers of the event, and we also commend them for their hard work. Hopefully, this rally wasn't merely a one time knee-jerk reaction and is the beginning of a much bigger push on issues of importance to our former military personnel and their families. If we are to influence the 2008 national elections, we must unite our efforts into one major voice. The next time we rally, let's shoot for 100,000 attendees. The future treatment of our veterans is in the balance.
A special thank you to Col. Harry Riley for his leadership and inspiration, and a very special thank you to; [Name Omitted], Rick Townsend, John Evans, Calvin Murphy, and Phu Nguyen for their continued loyalty and service during the Washington, DC event. Sincere accolades to Viper's Vietnam Veterans Web page for the continuous GOE updates and information.
OFFE looks forward to working with these Great Americans again in the very near future.
OFFE National Chairman – Gene D. Simes
OPERATIONFFE2008@rochester.rr.com
PS – The national news media should hang their collective heads in shame for not covering GOE.