OFFE NEWS
September 11, 2023
Recognizing the Ongoing Service of Calvin Murphy, Vietnam Veteran
The willingness with which our young people are likely to serve in any war, no matter how justified, shall be directly proportional to how they perceive the veterans of earlier wars were treated and appreciated by their nation.

- George Washington
MY SERVICE TO MY COUNTRY
From a Vietnam Veteran:
Growing up as a kid it was always my plan to "PROUDLY SERVICE MY COUNTRY". I volunteered draft at 18. Went right from high school to BOOT CAMP. Very Proud. I held my head high and chest out. Not knowing what the future was holding for a whole generation of American Military personnel.
As a Vietnam Veteran we came home to NO HONOR for our service. We came home to TOTAL DISRESPECT. Our country turned its back on us.
For years we lived in the Shadows of our service. Then we battled the VA System to get our benefits. We got them but it was a fight. A lot of us had to live with the HORRORS of that war caused problems with personal lives that caused breakdowns with relationships in personal lives (divorce). In comes the State Courts who say they can take control of our VA Service-connected disability benefits and give them away as they see fit with "NO" regard to the FEDERAL LAW. AGAIN, NO HONOR just DISRESPECT to those who PROUDLY SERVED their country. I for one (CALVIN MURPHY) was even put in jail over this issue.
With a sad heart I say to my fellow VETERANS, I CANNOT say anymore that I am PROUD OF MY SERVICE TO MY COUNTRY.
For me how can I love a country so much, and the Country DOES NOT LOVE ME BACK? NO HONOR just DISRESPECT.
I DO NOT BLAME THE COUNTRY OVERALL!!!!! IT IS PEOPLE IN IT SUCH AS LAWYERS AND POLITICANS who are making money on the backs of the disabled veterans through State Courts.
MY HEART CRY'S FOR MY COUNTRY AND FOR THOSE WHO SO BRAVELY SERVED THIS COUNTRY. BUT I JUST DO NOT HAVE THE PRIDE FOR MY SERVICE ANYMORE.
- Calvin Murphy
---
More in Recognition and Celebration of Calvin Murphy, U.S. Army 1965-1967

Disabled Veteran has Questions for America (includes Calvin's Letter to the VA Requesting Oxygen Equipment and the Response from the VA: Case No. 09597336)
Calvin and Gene's First Face to Face Meeting at 5301 Group March in Washington DC
First Operation Firing for Effect Rally in Washington
Calvin Murphy with Doug Pickles (Former POW)
Photos of Ma Murphy and Calvin's Work with Combat Vet's with PTSD
---
Disabled Veteran has Questions for America
A Note from Calvin Murphy: My name is Calvin Murphy, and I am a 75 year old 100% disabled Vietnam Veteran. I have some questions about how we are treated in some ways. First- I must start with the way I was treated from 2005 till 2008 during my divorce. I tried to protect my disability benefits during my proceeding as the Federal Law says under Title 38 Sec. 5301 says. But the States say otherwise and all I got was a 90 day jail sentence and lost my protection and have to pay my ex $800.00 a month for life. All because I answered the call to help my country. Life goes on.
Second- About year and a half ago I was diagnosed with Pulmonary Fibrosis of the lungs. This will be a progressive disease. My life has drastically changed because of this disease. I am on oxygen now. I live in Michigan and I am in the VA system. I have the home oxygen equipment and all works fine. My problem is getting the new updated technology with the battery powered oxygen concentrators that give you more mobility to get around. We can NOT get this type equipment thru the VA here in Michigan. I was told because the private contractor that supplies Michigan veterans does not carry this type equipment. So NOW my question is this: VA is a National Agency and some states make this equipment available to disable veterans and some do not. Should all states be the same? I am very confused. I have been told that there is a battery powered system here in Michigan in a suitcase that weighs 28 lbs. I walk 50 ft. and I am out of breath, and they expect me to haul that around! All I am asking for is a little bit of dignity and quality of life for what little time that I have left. I would like to visit my daughter in FL But don't see it happening. I don't want all of the hassle of having to deal with oxygen companies in FL. And not knowing what to do while traveling on a plane. The portable system would be so simple and easy for the veterans. I get lots of calls from companies trying to sell me a system for thousands of dollars. I should not have to pay for something I earned the right to have supplied by the VA . I have been so proud of my service to my country, but because of my service to my country in many ways it has destroyed my life. So sad for so many.
I hope someone can answer why are we treated this way. To be put in jail for trying to hang on to what I've earned and now to just sit home a prisoner to steel oxygen tanks and limited to what I can do. I must end this by saying that I am in NO way putting down the VA System, over the years my medical needs have been met very well and especially with the Community Care program. This problem with oxygen equipment and trying to bring it up-to-date with the new technology in 2023 is a rare event for me with the VA. I am using the same equipment that my father used and he was a WW2 veteran.
So please, AMERICA I AM ASKING YOU: why are we treated this way? We just want a little dignity and quality of life. I don't think we are asking for too much. I have been told that this is a very serious issue with many veterans in other states also where this also happens and I also have been told lot of veterans are paying out of pocket for this equipment to help them. This is WRONG. We earned the right to have this equipment.
-- Calvin Murphy
Calvin's Letter to the VA Requesting Oxygen Equipment and the Response from the VA: Case No. 09597336
Veteran Name: Calvin Murphy
Case number: 09597336
I am trying to get Portable Battery Powered Oxygen Concentrators thru the Michigan VA. They DO NOT have contractor that supply veterans with this. We just have the old metal tanks. The systems I am looking at is like the Inogen Oxygen Sysytems.
I have a lung condition called Pulmonary Fibrosis, this condition is a hardening of the lungs. This was diagnosed thru VA and private doctor thru community care for veterans. I am just looking for a little more quality of life beyond this old metal tanks. Modern technology has advanced but it has by passed many veterans in many states. IT IS NOT FAIR.
Sincerely, Calvin Murphy

Response from the VA:
Thank you for contacting The VA Hotline.
This email is to acknowledge receipt of your VA concern, which was submitted to The VA Hotline on 2/27/2023. Your concern is currently being forwarded to your local VA personnel for further assistance. A VA representative will then directly address your concern with you via phone, email, or written correspondence.
Below you will find The VA Hotline case number and the approximate date that you will be contacted regarding this concern. If you would like to follow up on the status or provide additional information, please provide the case number below to the VA Hotline Customer Service Representative at 1-855-948-2311.
Case Number: 09597336
Expected Resolution: Approximately 14 Business Days
Subject: Portable Air Tanks
Administration: VHA
Concern Type: CO - Coordination of Care
Respectfully, The VA Hotline Team
The PACT Act is a new law that expands VA health care and benefits for Veterans exposed to burn pits, Agent Orange, and other toxic substances. The PACT Act adds to the list of health conditions that we assume (or "presume") are caused by exposure to these substances. This law helps us provide generations of Veterans—and their survivors—with the care and benefits they've earned and deserve. For assistance visit VA.gov/PACT, call 1-800-MyVA411 (800-698-2411 (TTY: 711), ask a specific question online, schedule an online or in-person appointment with a VA benefits specialist, or find a Veteran Service Organization to assist you.

CLICK HERE TO DOWNLOAD THE VA Welcome Kit: www.va.gov/welcome-kit
Whether you're just getting out of the military or you've been a Veteran for years now, the VA Welcome Kit can help guide you to the benefits and services you've earned.
---
Calvin and Gene's First Face to Face Meeting at 5301 Group March in Washington DC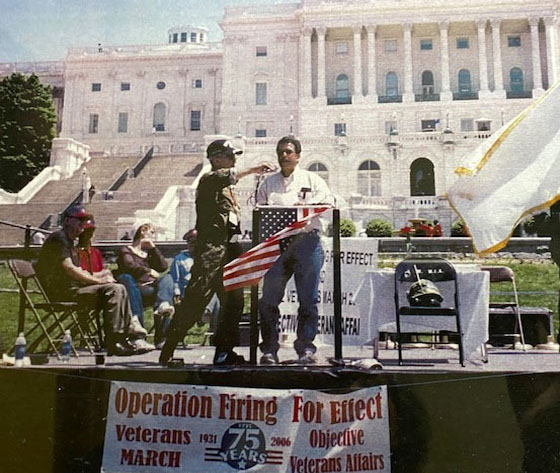 Here is another photo I wanted to share with you. This is when I first meant Gene face to face, in D.C. for the March. We are on the podium, and I am speaking. The leadership that day by Gene Simes gave me a lot of hope on the 5301 missions. I thought I was all alone. Gene showed me I was not. I was jailed few weeks before this event in Michigan. The 5301 group hammered the courthouse with so many calls that the judge called a special session with lawyers to stop the calls. Victory that day, they heard us loud and clear. I was and still am a proud member of this mission. With my health I cannot be out there with you and might not make it to the finish line with by in heart and spirit I am with you all the way. This photo of am so proud of. Being with such a leader like Gene. There have been many ups and down but the 5301 group presses on. Hoo-Rah
Semper Fi
Calvin
Vietnam 66-67
---
First Operation Firing for Effect Rally in Washington
OVER 30 STATES ATTENDED THIS RALLY. THE SHEET METAL WORKERS OF GREATER ROCHESTER NEW YORK AND OTHER UNIONS FROM THE WASHINGTON AREA SUPPORTED THIS RALLY WITHOUT LEAVING THE FEDERAL EMPLOYEES UNION OUT AS WELL.
Must end by saying how proud I was to stand with Gene on podium at the Capitol in 07. What a memory. Another thing I remember with Gene was the Old Radio Show he did out of Iowa. Starlite Radio. Gene had veterans from Australia, calling in and we got 100% support on our plight from them. I mean 100% they back us more that our own here in the States. Will never forget that. That was how and still that OLD JAR-HEAD works he can bring them in. Once a Marine Always a Marine. My Brother gene. Over and Out Semper Fi

- Calvin
IN 2006, WE ALL CAME TOGETHER AS ONE!
---
Calvin Murphy with Doug Pickles
Calvin Murphy with Doug Pickles, former POW and a retired State Police trooper with with Purple heart and Service Branch plaques - September 18, 2022
---
Ma Murphy and Calvin's Work with Combat Vet's with PTSD