FOR IMMEDIATE RELEASE (40)
July 7, 2008
Willie Nelson Video Tapes Public Service Announcements for Veterans' Healthcare
During a recent concert appearance in Tama, Iowa, grassroots American Icon Willie Nelson took time out from his schedule to video tape several public service announcements (PSAs), which are being produced by Operation Firing For Effect (OFFE). The PSAs were written by OFFE Public Relations Director, [Name Omitted], and approved by Mr. Willie Nelson prior to production. The series of 15, 30, and 60 second Willie Nelson PSAs focus on the future of veteran's healthcare, and ask the general public to take an active interest in the state of veterans' affairs. Nelson, a U.S. Air Force veteran, is national spokesperson for OFFE as well as a strong supporter of full mandatory funding for veteran's healthcare and services.
The PSAs will be distributed nationwide to cable/television networks, radio and internet outlets by the end of July.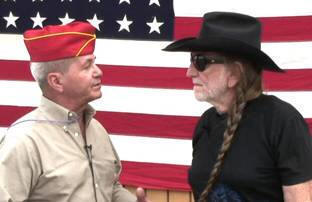 OFFE National Chairman, Gene Simes and country legend, Willie Nelson discuss details of Public Service Announcement
In one OFFE PSA Willie Nelson asked all Americans to unite for the common good of our men and women in uniform. Nelson states: "Together, we can do so much better." According to Willie Nelson, our communities are comprised of veterans, and our veterans are our communities. In another PSA Willie Nelson asks everyone to call their Congressperson and urge them to support full mandatory funding of the VA. In yet another PSA Willie Nelson references the 1.3 million Illinois voters that voted 'yes' for full mandated funding of veteran's healthcare on their February 5th primary election ballot. Nelson also encourages every American to exercise their right to vote.
According to Gene Simes, these PSA will be aired prior to the 2008 general elections and are designed to get the attention of the presidential candidates. "We need to know where these candidates stand on the future of veteran's healthcare before we give them our vote, not after," Simes stated. "I am confident that everyone will agree these PSA are very innovative and cutting-edge as far as 'veterans' affairs' goes. We expect more than a few raised eyebrows," Simes concluded.
In addition to the OFFE PSAs, Willie Nelson also met with Farm Aid organizers to discuss the recent flood devastation which has impacted Iowa and the mid-west.
Nelson presented a $10,000 Farm Aid grant check to the newly formed group called the Iowa Farm Disaster Relief Coalition. For more information on how you can help, visit; www.farmaid.org
If you would like an audio copy of the first 30 and 15 second OFFE PSA, simply click on the link below and download the broadcast quality audio files free of charge: http://stardustradio.info/downloads/willievetpsanew30a.wav http://stardustradio.info/downloads/willievetpsa15c.wav
Once edited, additional Willie Nelson/OFFE PSAs will be posted at this link:
http://www.stardustent.com/offemedia.htm
You are encouraged to share these audio files with anyone you wish. All media inquiries are welcome.
Operation Firing For Effect is a veterans advocacy group and subsidiary of Veterans For Veteran Connection, Inc., a registered non-profit organization devoted to the improvement and protection of benefits and services earned by our men and women in uniform. For more information, visit: www.offe2008.org