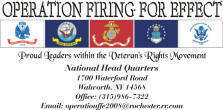 FOR IMMEDIATE RELEASE (39)
May 28, 2008
Waterloo New York Resident Wins Willie Nelson Signature Guitar
When Bob Smith bought two $10 raffle tickets for a guitar signed by country music legend Willie Nelson, he thought his chances of winning this one-of-a-kind piece of American musical history were slim to none.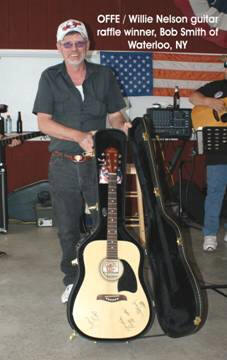 The raffle was part of a fund raising project developed by Operation Firing For Effect in cooperation with Willie Nelson, and concluded with the drawing for the guitar on Monday, May 26th at VFW Post 6433 in Waterloo, New York.
Proceeds from the raffle are to be used to pay for broadcast airtime on Stardust Radio, a worldwide internet radio station home based in Riverside, Iowa. Operation Firing For Effect produces a weekly one-hour veterans advocacy talk show on Stardust Radio every Tuesday evening at 9 pm Eastern. To listen to the OFFE broadcast on your computer, visit www.stardustradio.com and click on the 'listen live' link.
Willie Nelson is national spokesperson for the grassroots group and their 2008 crusade for full mandatory funding of veterans healthcare. On April 19th of this year, Willie Nelson invited OFFE representatives to be his special guest at a concert in Norfolk, Virginia. During a meeting on Willie's tour bus prior to the concert, Nelson signed a guitar for the group to use as a fund raiser.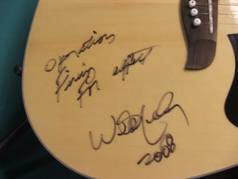 The brand new Washburn guitar was donated by [Name Omitted]. Only 170 raffle tickets were sold, totally $1700 raised. Despite the low number of ticket sales, the raffle was deemed a tremendous success. Plans are now in the works for a similar Veterans Day raffle.
According to raffle winner, Bob Smith, the guitar will be kept as a treasured family heirloom forever.