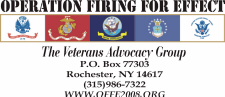 FOR IMMEDIATE RELEASE (37)


http://www.dcmilitary.com/stories/041708/pentagram_28233.shtml
Thursday, April 17, 2008
ARLINGTON NATIONAL CEMETERY, ARLINGTON, VIRGINIA
Veterans advocate group drapes Arlington Ladies in gratitude
By Alex McVeigh
Pentagram Staff Writer
photo by Alex McVeigh
Members of Veterans for Veteran Connection presented the Arlington Ladies with scarves and American Flags as a gesture of appreciation. VFVC members travelled to Arlington from upstate New York.
Operation Firing for Effect (OFFE), a veterans advocacy group from New York, spent this week in Washington D.C. One of their stops was Arlington National Cemetery, where they presented the Arlington Ladies scarves and a case containing an American flag.
The Arlington Ladies are a group of volunteers who attend every funeral at Arlington National Cemetery. They are divided into Army, Navy, Air Force and Coast Guard. They attend as a representative of the branch's Chief of Staff.
''I found it amazing that a group from upstate New York even knew about us," said Linda Willey, chairman of the Air Force Arlington Ladies. ''We don't do it for recognition, but it is incredible to be recognized."
In a small ceremony Wednesday, members of VFVC presented several ladies with white scarves with the words ''Arlington Ladies" embroidered in purple and gold.
The idea to make the presentation to the Arlington Ladies came from military historian Robert Fink. Fink is a member of Veterans for Veteran Connection, a non-profit veterans organization, an umbrella group that OFFE is a part of. His brother Julius was buried in Arlington National Cemetery in 1998.
The Arlington Ladies made a special request on Julius' behalf to have his burial flag flown on the Tomb of the Unknowns main flagpole on the day of his burial.
''If it wasn't for the ladies knowing that Julius was a hero, he never would have gotten that extra recognition," said Gene Simes, National Chairman of OFFE. ''Robert wanted to do something special for the Arlington Ladies, something that had never been done before."
It was through Fink's efforts through OFFE that the presentation of the scarves and flags was made possible.
''It's very gratifying to know that people acknowledge what we do," said Paula McKinley, chairman of the Navy Arlington Ladies.