<![if !vml]>
<![endif]>
FOR IMMEDIATE RELEASE (35)
April 19, 2008
American Icon Willie Nelson Invites Fellow Americans to Join Nationwide Movement
<![if !vml]>
<![endif]>
Well known country music legend Willie Nelson (U.S. Air Force veteran) is motivating grassroots America yet again. This time, Willie has his sights focused on helping his fellow veterans improve and protect their earned healthcare system, the Department of Veterans Affairs medical system (VA). Mr. Nelson is asking all of his fans to get involved in the current national movement for full mandatory funding of the VA, and encourage others to get onboard as well. According to Willie, right now is the perfect time for America to stand up for our troops.
<![if !vml]>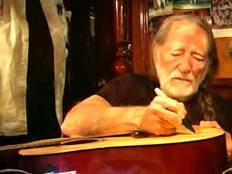 <![endif]>
Willie Nelson signs a guitar for a Memorial Day raffle to raise funds for production of several OFFE Public Service Announcements (PSAs) to air nationwide over the next few months
Willie Nelson is a national spokesperson for Operation Firing For Effect (OFFE), a non-profit veteranís advocacy group devoted to the improvement and protection of entitlements and services earned by our men and women in uniform. After much research by Mr. Nelson, he agreed to be OFFE celebrity spokesperson and has also agreed to appear in several public service announcements (PSA) produced by OFFE focusing on the full mandatory funding issue. Plans are now in the works to begin production on several short PSAs for airing nationally prior to the general elections in November.
According to OFFE National Director, Gene Simes, the timing of these PSAs is critical. The PSAs are designed to inject the words Ďveteranís healthcareí into the vocabulary of our Presidential Candidates leading up until the general elections in November, regardless of political affiliation. And we must accomplish this before the general elections, not after. Veteranís healthcare is not a special interest or charity; it is an ethical/moral obligation/promise we as Americans have made and owe our men and women in uniform. If we expect to maintain our all-volunteer military in the 21st Century, improve enlistment and retention, and avoid the possibility of reinstating the Draft, the next President must give veteranís healthcare very serious consideration. It is a matter of national security, clear and simple, and the next administration must address the issue. It is up to us to make certain they do just that. Willie Nelson and the OFFE Team are asking for your help in accomplishing this very worthy mission.
You will also find a video statement by Willie Nelson on YouTube at these links; http://www.youtube.com/watch?v=SJt9-eOFDM4
http://www.youtube.com/watch?v=6gdgLox8zAM
Remember; if you do nothing, you can expect nothing to change. Get involved today!