FOR IMMEDIATE RELEASE (31)
March 28, 2008
Willie Nelson Memorial Day Signature Guitar Raffle
Operation Firing For Effect, in cooperation with country music legend Willie Nelson is conducting a Memorial Day raffle. On Monday, May 26, 2008 OFFE will hold a public drawing in Waterloo New York for this very special one-of-a-kind Washburn acoustic guitar signed by American Icon and Country Music Star Willie Nelson.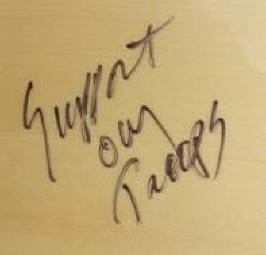 The cost of a chance to win this very unique guitar is $10 per entry form. You can enter as many times as you wish. Simply cut out the entry form below, fill it out, and send it to the address listed on the entry form. If you wish to enter multiple times, you must submit a separate entry form for each entry. We suggest you do not send cash. Rather send a check or money order. This way you will have a receipt for your tax deductible contribution.
In addition to the Willie Nelson Signature Guitar, the winner will receive a certificate of authenticity, gig bag, guitar strap, extra set of strings, and several guitar picks. The guitar also features a built-in tuner.
Proceeds from this fund raiser will be used to produce several public service announcements Supporting Full Mandatory Funding for Veteran's Healthcare to be aired during the month of October of this year. The purpose of these public service announcements will be to inform the next administration, regardless of political affiliation, the American people expect the healthcare needs of our veterans will be fully funded.
The guitar was signed on March 19, 2008 during a Willie Nelson concert in Norfolk Virginia and contains the following inscription; "Support Our Troops", "Operation Firing For Effect", "Willie Nelson 2008" If you are a collector of music memorabilia, or a Willie Nelson fan, this guitar is a must for your collection.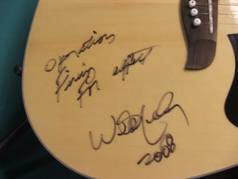 On March 7, 1966, the State of New York recognized Waterloo New York by a proclamation signed by Governor Nelson A. Rockefeller. This was followed by recognition from Congress of the United States when the House of Representatives and the Senate unanimously passed House Concurrent Resolution 587 on May 17th and May 19th, 1966 respectively. This reads in part as follows: "Resolved that the Congress of the United States, in recognition of the patriotic tradition set in motion one hundred years ago in the Village of Waterloo, New York, does hereby officially recognize Waterloo, New York as the birthplace of Memorial Day. On May 26, 1966, President Lyndon B. Johnson, signed a Presidential Proclamation recognizing Waterloo as the Birthplace of Memorial Day. This is the reason Waterloo was chosen for the drawing of the Willie Nelson Memorial Day Signature Guitar Raffle.
Remember, you can't win if you don't enter!
You do not have to be present to win!
For more details, visit; WWW.OFFE2008.ORG
Operation Firing For Effect, (OFFE) is a bi-partisan Veterans Advocacy group, and subsidiary of Veterans For Veteran Connection, Inc., (VFVC) a registered non-profit corporation devoted to the protection and improvement of entitlements and services earned by our men and women in uniform. Corporate officers of VFVC Incorporated or their direct family members are not eligible to enter this fund raising raffle.