<![if !vml]>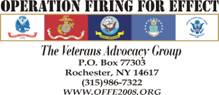 <![endif]>
FOR IMMEDIATE RELEASE (22)
January 9, 2008
Gun Control Lobby Bullies President Bush
Into Signing Controversial Bill!
A number of NRA lobbyist and pro-gun control supporters are reported to have pressured President Bush into sign H.R. 2640 into law immediately yesterday evening - before a recently discovered 'Secret VA document' was leaked to the media!
According to confidential sources closest to this story, President George Bush received several phone calls advising him that there was a 'potential problem' with the H.R. 2640 and suggested he should sign the Bill ASAP to avoid any embarrassing delay. The President was advised that his signature was needed immediately. Apparently, a classified VA document uncovered and published by Operation Firing For Effect two days ago was at the center of a gun-control lobby panic attack and they didn't want to take any chances on possible public opinion wrecking their gun control Bill at this late stage of the approval process.
The VA document in question is VBA Fast Letter 00-44, dated; January of 2000. The confidential interagency document reveals more than just one bombshell, there are several very disturbing revelations made by the VA concerning the protection (or lack of) personal medical healthcare data from outside sources. The source for the VA document leak is being kept anonymous for their own protection. OFFE guarantees the authenticity of the VA Fast Letter and would not disclose where or from whom they acquired the document. The VA has yet to verify the Fast Letter, but former employees of the VA say it appears to be very legitimate.
To read Operation Firing For Effects opposition to the passage of H.R. 2640, and to review the classified VA document which may rock the VA to their foundation, visit this link http://www.operationfiringforeffect.com/blog/
Operation Firing For Effect, National Chairman, Gene Simes is convinced any endorsement by anyone of H.R. 2640, the 2007 NICS Improvement Bill, was in reality an endorsement of harvesting personal 'mental health data' from the nation's largest medical database (VA) for purposes other than the mental healthcare and treatment of our veterans. The passage of H.R. 2640 expands NICS ability to collect mental health data on any/all veteran(s) enrolled in the VA healthcare system, and bulk amounts of patient medical data will continue to be siphoned out of the VA database for purposes of law enforcement and gun control. The Department of Veterans Affairs has now officially been completely 'raped' of its data and sovereignty.
WARNING! If you are a veteran and currently enrolled in the Department of Veterans Affairs healthcare system, your personal medical data has been severely compromised! Your mental health records 'may' be used against you by law enforcement in the future! The Department of Veterans Affairs is no longer capable of protecting your personal medical records! This public service WARNING is issued by; Operation Firing For Effect, the Veterans Advocacy Group.
[Name Omitted], OFFE Public Relations Director, WWW.OFFE2008.ORG