FOR IMMEDIATE RELEASE! (15)
September 21, 2007
Presidential Candidate Bill Richardson Signs OFFE Resolution for Full Mandatory Funding of Veterans Healthcare
Late yesterday afternoon, Operation Firing For Effect (OFFE) received a signed resolution from Presidential Candidate, New Mexico Governor, Bill Richardson's campaign headquarters. Richardson is the latest high profile politician to endorse 'Operation Firing For Effect' and their resolution for full mandatory funding of the veterans healthcare system. He is also the second Presidential Candidate to sign the OFFE resolution, joining Senator Hilary Clinton.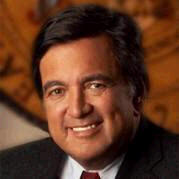 Presidential Candidate, New Mexico Governor, Bill Richardson
OFFE National Chairman, Gene Simes, and OFFE Public Relations Director, [Name Omitted] just returned from a very successful trip to Albuquerque New Mexico. During the New Mexico visit, Simes and his OFFE team gained the support and endorsement of Acting Governor, Diane Denish, Albuquerque Mayor, Martin Chavez, and New Mexico Department of Veterans Affairs, Secretary, John Garcia. The OFFE Team also collected a mere 5000 individual signatures from attendees at the 2007 New Mexico State Fair held in Albuquerque. According to OFFE Chair Gene Simes, Governor Richardson's endorsement makes the New Mexico effort a great success in anyone's book.
The OFFE team now has their sights focused on the remaining Presidential Candidates from both sides of the aisle. According to OFFE Chairman Simes, the American people want to hear the candidate's position on this issue before the voters casts their votes, not after.
For more information on OFFE and their full mandatory funding resolution, visit; www.offe2008.org
[NOTE: Operation Firing For Effect (OFFE) is a bi-partisan veterans advocacy group, and subsidiary of Veterans For Veteran Connection, Inc., a 501(c)19 non-profit corporation devoted to the protection and improvement of entitlements and services earned by our men and women in uniform. OFFE does not endorse political candidates running for office. OFFE does report on issues of importance to our former military personnel and their families and that includes 'News' from both sides of the aisle. OFFE will grant equal time to any candidate (regardless of political affiliation) who wishes to share and explain their position(s) on 'veterans' affairs'.]