---

FOR IMMEDIATE RELEASE!
September 21, 2007
New Mexico Department of Veterans Affairs Endorses OFFE Resolution
On Saturday, September 15th, the New Mexico Department of Veterans Affairs hosted a 'Welcome Home Tribute' luncheon to several hundred returning and former military personnel and their families. The guest list for the event included dignitaries from all levels of the New Mexico military community, including two Congressional Medal of Honor recipients and several survivors of the Bataan Death March. Also in attendance was New Mexico Acting-Governor, Diane Denish and Brigadier General Kenny C. Montoya, Commanding Officer of the New Mexico National Guard.
OFFE Chair, Gene Simes, and Brigadier General, Montoya
OFFE National Chairman, Gene Simes, OFFE Public Relations Director, [Name Omitted], and OFFE New Mexico Director of Operations, Theodore Roybal graciously accepted the invitation to attend both the Welcome Home luncheon and a banquet honoring Latino-American veterans that was held later that evening.
New Mexico Department of Veterans Affairs, Cabinet Secretary, John Garcia was the Master of Ceremonies for the two hour luncheon. Mr. Garcia is also a U.S. Army Vietnam veteran. At one point in the program, Secretary Garcia invited OFFE Chairman Gene Simes up to the podium to comment on full mandatory funding for veteran's healthcare. Simes kept his statement brief; concentrating primarily on encouraging attendee's to get involved in OFFE's campaign for full mandatory funding of the Department of Veterans Affairs healthcare system. Mr. Simes also encouraged everyone to register to vote. 'We honor the service and sacrifice of our men and women in uniform when we participate in the free election process that their military service protects and secures for us all,' Simes said. Chairman Simes received a hearty round of applause for the work that OFFE was doing on behalf of our country's veterans.
After the luncheon, Secretary Garcia not only signed OFFE's resolution, he pledged to author and introduce a similar resolution at an upcoming national meeting of the National Association of State Directors of Veterans Affairs, (NASDVA).
Secretary Garcia voiced his confidence that his resolution for full mandated funding of veteran's healthcare will be passed by NASDVA in all 50 states.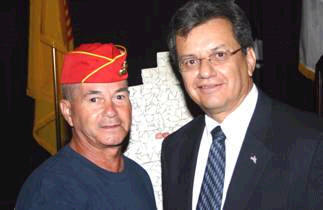 OFFE National Chairman, Gene Simes and Secretary of the
New Mexico Department of Veterans Affairs, John Garcia
Needless to say, OFFE's trip to Albuquerque, New Mexico was a tremendous success. We were humbled by the response and support that we received from the Great State of New Mexico. OFFE Chair, Gene Simes and the OFFE team are extremely grateful to the people of Albuquerque for their warm and generous hospitality.