OFFE National Delegates from New Mexico Visit Walter Reed Army Medical Center
On February 14th of this year, OFFE National Chairman Gene Simes and OFFE National delegates from New Mexico visited with wounded soldiers at Walter Reed Army Medical Center. The Fisher House at Walter Reed is where the wounded troops live before being transferred home or to a rehabilitation center elsewhere.
<![if !vml]>
<![endif]>
Barbara Wright, Theodore Roybal, John Evans
Laney Cope (14 months), Josh Cope, Gene Simes.
Photo by: Demetrio Chavez
During the OFFE visit to Walter Reed they met a young soldier recovering from wounds he received in combat. Josh Cope, 24, is an Iraq veteran from Panama City, Florida. He lost both legs to an explosion which also injured both of his hands. Cope is having a difficult time receiving the benefits he is entitled to because the Army has been unable to locate his service records. OFFE has taken an active interest in Josh Cope and efforts have been launched to correct any problems this young hero is faced with, and they continue to monitor Cope's recovery.
<![if !vml]>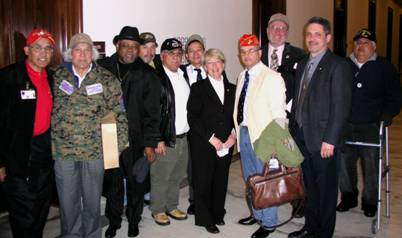 <![endif]>
Back Row left to right: Raul Perez, Robert Fink, John Evans, Demetrio Chavez, Theodore Roybal, Dale Dowling, Bob Hernandez; Front Row Left to Right Senator Patty Murry, National Chairman OFFE Gene D. Simes, Chris Hollfelder, President Sheet Medal Workers local 46 Rochester, NY.
During their visit to the Russell Senate Building, OFFE National Chairman Gene Simes addressed issues of concern with Congressman Bob Filner Chairman of Veterans Committee.
Theodore Roybal and Demetrio Chavez are heading up the New Mexico branch of Operation Firing For Effect and are currently working on getting the Governor to sign OFFE's resolution calling for full mandatory funding of veteran's healthcare.