Colonel Harry Riley Endorses Mandatory Funding Resolution
Colonel Harry Riley might be best known for his superb leadership and spiritual guidance during the recent 'Gathering of Eagles' rally held in Washington, DC on March 17th. Colonel Riley is also the latest American to sign a Resolution authored by Operation Firing For Effect calling for full mandatory funding of veteran's healthcare.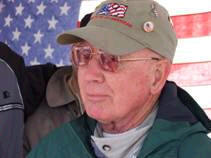 Colonel Harry Riley at Gathering of Eagles rally in DC on March 17th
Colonel Harry G. Riley is the recipient of the Silver Star, Legion of Merit, Bronze Star and other awards and badges – including the Combat Infantry Badge, Parachute Badge, and Army Staff Badge. He served over 34 years in the US Army. He was commissioned as a 2LT in 1966 and promoted to Colonel in 1989. He served in command positions from Detachment through Battalion level and staff assignments from Brigade to Chief of Staff Army level. He served two tours in Viet Nam and did several tours in Germany.
"Is there anything fair, noble, or just in sending our citizens to war in support of America's freedom and then failing to honor commitments to them? We place them in jeopardy of life, limb, and blood only to deny funding their Veterans benefits? Is America simply using and abusing our men and women by insisting they beg for their earned benefits? Has America fallen this callous? God help us. I hope everyone will consider signing this very important resolution," Colonel Harry G. Riley, USA(Ret.)
Colonel Riley is merely the most recent to sign OFFE's Resolution. To date, our Resolution has been adopted and passed by Senator Charles Schumer, several U.S. northeast cities and townships, including the Mayor of Chicago, Illinois, Richard Daley, the Governor of Oregon, Ted Kulongoski, plus over 500,000 labor union members in New York State. Visit this link to view signed Resolutions – http://offe2008.org/public_html/resolution.htm