'SUPPORT OUR TROOPS!'
Introducing the
OPERATION FIRING FOR EFFECT
Sponsor Card!
<![if !vml]>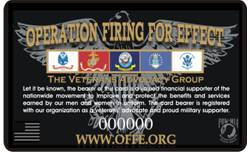 <![endif]> <![if !vml]>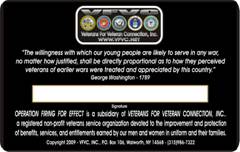 <![endif]>
In an effort to promote transparency and accountability in fund raising, Operation Firing For Effect has created a new and innovative way to accept and document donations.
Recognizing the importance for a database to track funds donated to the OFFE organization, we have developed the OFFE Sponsor Card. The individually numbered OFFE Sponsor Card database will; (1) track all donations, (2) when the donation was made, and (3) who made the donation.
The OFFE Sponsor Card is a new and unique way to show your support for our veterans while enjoying the fun of entering raffles. It looks like a credit card, and like a credit card each card is embossed with a special registration number. The card is made from durable PVC plastic which will last for a lifetime.
How does the OFFE Sponsor Card work?
Operation Firing For Effect is a subsidiary of Veterans For Veteran Connection, Inc., which is a registered non-profit organization that depends entirely on contributions in order to operate. Anyone who donates a minimum of $5 to OFFE will receive one OFFE Sponsor Card. The number that appears on your card becomes your permanent OFFE registration number and belongs only to you. Your name and number will be added to our national database of registered donors.
In addition, your name and registration number will be included in every raffle conducted by OFFE. That's right, the OFFE Sponsor Card enters you into every single raffle drawing OFFE has in the future.
How many OFFE Sponsor Cards can I acquire?
You will receive an OFFE Sponsor Card every time you donate a minimum of $5 to OFFE. There is no limit to how much you may donate or how many cards you can collect. The more cards you acquire, the greater your odds of winning a raffle.
How many raffles will OFFE conduct a year?
OFFE will conduct a raffle every 4th of July. In addition, depending on the success of the 4th of July raffles, OFFE will develop Special Events raffles and drawings throughout the year. As a OFFE Sponsor Card holder your registration number(s) will be entered in all of these raffles.
Do I have to be present to win a raffle?
No! When you donate $5 you will be required to fill out a registration form containing your personal contact information. You will be contacted if you win and arrangements will be made to ship your prize to you.
How will I know when OFFE is conducting a raffle, or what the prizes are?
Raffle details (including winning numbers) will be posted on our web site at WWW.OFFE.ORG. In addition, if you have submitted an email address with your registration, you will receive OFFE email.
How can I get my OFFE Sponsor Card?
You will find OFFE Sponsor Card Registration forms on our web site WWW.OFFE.ORG. Simply print out the form, fill it out, and send it in with your donation. You will receive your OFFE Sponsor Card(s) in about two weeks. If you are ordering multiple cards, simply include the number of cards you are requesting on your registration form. Each registration form must be submitted with a check or money order with your donation of $5 or more. DO NOT SEND CASH!
What makes the OFFE Sponsor Card so unique?
To the best of our knowledge Operation Firing For Effect is the only organization utilizing this type of system to track donations. The OFFE Sponsor Card database gives us the ability to look up any donor at any time and provide them with a detailed printout of every donation they have made to the organization. The donor receives a very nice looking high quality OFFE Sponsor's Card to carry with them. Anyone would be proud to own and display this card with them always. In addition, each sponsor is simultaneously entered into all future OFFE raffles. We know of no other organization devoting this level of accountability and service to their supporters.
What do I do if I lose my OFFE Sponsor Card?
No problem! Your registration number is recorded in our Sponsor Card database, so we will always know what your number(s) are.
Operation Firing For Effect is a subsidiary of Veterans For Veteran Connection, Inc., a registered non-profit organization headquartered in Walworth, New York. All donations are tax deductible.
One hundred percent, (100%) of all donations received by Operation Firing For Effect will be used to service our veterans, and for activities, events and/or projects designed to improve and protect the benefits, services and entitlements earned by our men and women in uniform.
[NOTE] An OFFE Sponsor Card Registration form must be filled out for each card issued. All personal information submitted by individuals on their registration form will be kept confidential. Corporate officers of Veterans For Veteran Connection, Inc. and Stardust Radio Inc. are not eligible to win OFFE raffles. Each OFFE Sponsor Card is individually numbered and is non-transferable to another person. In the event of death, the donor's card becomes invalid and the registration number(s) issued to that donor will be permanently 'Retired in Honor' of that supporter, never to be reissued.
Veterans For Veteran Connection Inc., DIVISION OF CORPORATION AND STATE RECORDS ALBANY, N Y 12231-0001, Federal Identification number: 16-1590596 - VFVC, INC., P.O. Box 106, Walworth, NY 14568, (315)986-7322.
Please Fill out form and than CLICK on SUBMIT to direct you to PAYPAL. If you have any problems please call us at 315-986-7322. Thanks.
To pay by Check, Cashier Check or Money Order CLICK HERE



Form Object